Is There an Alternative to LASIK?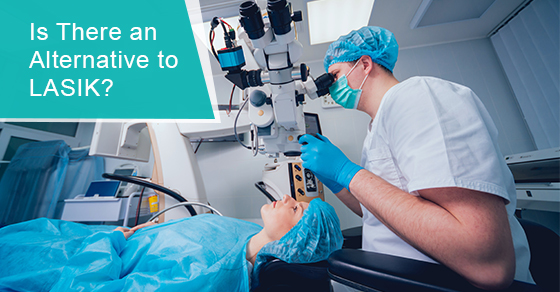 Many individuals think that LASIK is one of the only options out there to correct vision. In reality, there are other options out there that will improve your vision while suiting your individual healthcare needs. Corrective eye surgery isn't a one-size-fits-all solution, and for many individuals, LASIK may not be the perfect solution. For example, LASIK is the ideal procedure for candidates with nearsightedness and have decided they no longer wish to wear glasses and contacts.
If you don't satisfy these criteria, it may be time to check out other kinds of eye surgery options in Toronto. In this article, we walk you through some of the alternatives to LASIK to improve your vision.
What are the benefits of alternative corrective eye surgery?
Many people have to wear some kind of corrective eyewear. Refractive errors are the most common vision issues, and myopia, hyperopia, and astigmatism are all examples of common refractive errors.
While LASIK has been one of the most popular long-term treatments for refractive errors, it is not for everyone. Not all patients will qualify for or benefit from this procedure. For example, those with chronic dry eye, thin corneas and large pupils will likely not be suitable candidates for LASIK. Those with an autoimmune condition are also not good candidates for LASIK as they won't be able to effectively heal after the surgery.
This is why it is crucial to have alternative procedures for corrective eye surgery. Below, we share some alternative eye-correction options in Toronto:
PRK Surgery
Photorefractive Keratectomy (PRK) is a laser eye surgery that aids with first-generation vision correction. The procedure involves removing the top of the corneal tissue and reshaping it using an excimer laser. This process can help with astigmatism, as well as typical issues with refraction. In the days following the surgery, the corneal tissue grows back and heals the eyes.
This treatment is an excellent alternative to LASIK, as those with thin corneas can benefit from PRK surgery, unlike LASIK. However, the procedure does come with a longer recovery time, which can take anywhere between a week to six weeks for clear vision.
The best candidates for PRK are those who have low to moderate levels of hyperopia or myopia. Patients must be 18 years of age and not suffer from astigmatism, thin corneas or corneal irregularities. However, if you're unsure if you make a good candidate for PRK surgery, it is best to check in with your healthcare specialist.
SMILE Surgery
SMILE stands for Small Incision Lenticule Extraction surgery, and it is one of the most advanced treatments out there. It is much more effective for correcting refractive errors while remaining less invasive than other such surgeries. This procedure is undertaken by creating a small hole in the corneal tissue with the excimer laser to reshape the cornea.
This option is minimally invasive and is also a flapless procedure, unlike LASIK. The recovery time is much faster, as is the occurrence of side effects and discomfort.
PRESBYOND Treatment
PRESBYOND is a laser blended vision correction treatment. It helps treat the symptoms of presbyopia and is a minimally invasive and lower-risk procedure. This surgery is an effective alternative to traditional methods for treating presbyopia.
This procedure works by increasing the depth of field of vision, which results in better visual outcomes. The typical alternative to this treatment is monovision, which involves wearing two contact lenses – one each for correcting distance and near vision. As such, this treatment is a permanent solution and much easier to integrate into everyday life. It also comes with extremely high success rates.
Laser Light Transepithelial Crosslinking
This corrective eye surgery is an improved version of traditional treatment for ectasia, keratoconus and other degenerative eye issues.
The benefit of this surgery is that it has a short recovery time and reduces the problems, pain and side effects of traditional crosslinking. It also reduces any risk of infection.
This treatment works by strengthening the cornea, which in turn improves its shape. The topmost layer of the cornea remains intact, which reduces the risk of complications down the line or the need for a corneal transplant. The process as a whole provides clear vision using state-of-the-art technology.
Laser Cataract Surgery
Laser cataract eye surgery is a more advanced version of traditional cataract surgery. It uses blade-free procedures, as opposed to conventional cataract surgery which uses manual instruments. The use of a bladeless laser allows for more precision, accuracy and a gentle approach. It also comes with faster recovery times and offers safer results.
This is because it reduces trauma to the eye. There is reduced postoperative inflammation which allows for a smooth and easy recovery.
When choosing corrective eye surgery, it is important to pick one that is right for your unique needs. While making your decision can be challenging, you must work with the right team of healthcare providers who help you achieve the best vision possible. At Clearview Institute, we pride ourselves on our advanced technology, superior surgery techniques and highest quality patient care. Our personalized treatment plan for corrective eye surgery will provide the best solution for your unique vision needs.
To book a free appointment for corrective eye surgery in Toronto, call Clearview Institute today at 647-493-6371 or contact us here.