How to Prepare Yourself for Laser Eye Surgery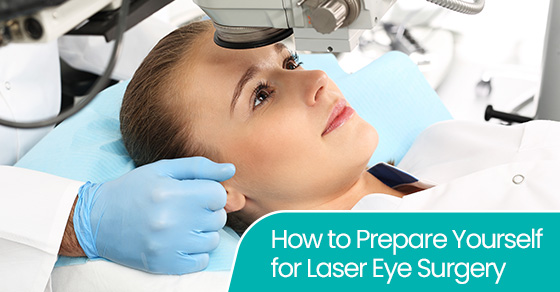 Custom Bladeless LASIK eye surgery can be a completely life-changing procedure for people suffering from vision issues such as nearsightedness, farsightedness, and astigmatism.

However, preparing for LASIK eye surgery requires thoughtful consideration and planning to ensure the best outcome. There are a number of important steps that patients should take (and things they should avoid) before undergoing this widely popular treatment. For these reasons, it is important to be well-informed so that you know what to expect from the procedure.

This article will discuss everything patients should know about LASIK eye surgery, from what they can expect with treatment to how they can properly prepare for the procedure to ensure optimal success.
What to Expect Before and During Your Custom Bladeless LASIK Consultation

As with any surgical procedure, you must first consult with a doctor before treatment. In order to properly prepare for your consultation, you'll need to be ready with detailed information about your medical history, including any known allergies, current medications, and other eye and health-related issues that will be necessary to discuss.

Your doctor will go over what you can expect during and after the procedure and perform an eye exam that may include measuring your corneal thickness and assessing your retraction and eye pressure. Other necessary eye tests may also be carried out.
Following your eye exam and discussions with the doctor, you will then be ready to schedule your LASIK eye surgery date.
Preparation in the Weeks Leading Up to Custom Bladeless LASIK Eye Surgery
There are several things you will need to do (and also avoid) to properly prepare for your upcoming LASIK Toronto laser eye surgery.

First, you should arrange to have a trusted friend or relative available to accompany you and drive you back home on the day of your LASIK eye surgery. Be sure to plan this far enough in advance to avoid running into last-minute issues on the day of your procedure.

Moreover, we advise increasing your water intake in the days leading up to surgery and drinking at least eight 8-ounce glasses of water daily. This is because laser eye surgery is known to temporarily increase the risk of a dry eye condition, which can be rather uncomfortable. Simply drinking more water for several days before surgery will help to mitigate this risk, as you'll be playing a role in keeping your eyes hydrated from the inside out.

If you wear contact lenses, you will need to discontinue use for a period of time before your pre-operative LASIK surgery evaluation, to allow your cornea to go back to it's natural shape. Be sure to bring your eyeglasses to your pre-operative appointment, too, as the surgeon will need to assess your prescription.

It is also important that you carefully read your post-surgical instructions before your Toronto laser eye surgery, as you'll want to be as informed as possible about how to set yourself up for a quick, smooth, and successful recovery.
How to Prepare on the Day of Your LASIK Surgery
On the morning of your LASIK eye surgery, you should take a shower. That involves washing your hair, if applicable, as you will not be able to get any water directly into your eyes after your procedure (with hair washing increasing this risk substantially).
Do not apply any eye makeup, facial products, or creams following your shower, either, and refrain from using any perfumes or products that are heavily scented. This is due to the fact that such products are capable of negatively interfering with the air quality in the operative room and thus potentially affecting treatment.

Additionally, refrain from drinking any alcohol or caffeine during the morning of your LASIK eye surgery, as these substances are dehydrating and can further increase the risk of postoperative dry eye. It would also be unwise to mix alcohol, in particular, with the medications you will receive before and after surgery, which are provided to help you relax and manage discomfort.

Lastly, you should plan to wear comfortable and loose-fitting clothing to your appointment so that you can easily get into bed and rest as soon as you arrive back home.

With the right preparation and care leading up to and after your LASIK eye surgery, you can be confident that this transformative procedure will provide you with the sharper vision and more convenient lifestyle you deserve for years to come.
Contact Clearview Vision Institute Today
Are you thinking about undergoing LASIK eye surgery in Toronto? We support this amazing decision and are here to answer any questions you may have about it during your consultation.
At Clearview Vision Institute, we offer exceptional LASIK eye surgery that you can trust. Our clinic is backed by a team of professional, friendly staff who are dedicated to giving you a seamless, comfortable experience. Choose our services and you can rest assured, knowing that you are in the right hands. If you have any questions about laser eye surgery in Toronto, feel free to reach out!
To book an appointment, call Clearview Vision Institute at 647-493-6371 or contact us here.