Everything You Need to Know About Custom Bladeless LASIK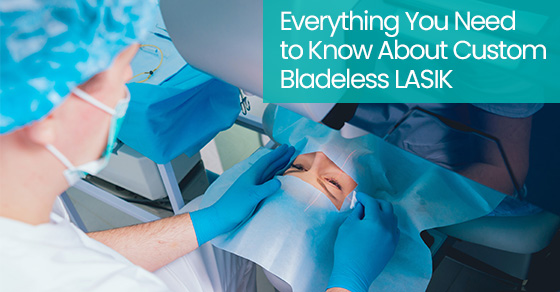 As a more advanced, less invasive, and more precise alternative to traditional LASIK eye surgery, bladeless LASIK has become an incredibly popular option for patients seeking long-term vision correction with minimal risk.

With that being said, it is essential for any patient considering bladeless LASIK eye surgery to have a thorough understanding about the procedure before setting a date. They should know about the steps involved, the advantages and expected outcomes, and whether or not they will even be a suitable candidate in the first place.

This article aims to provide anyone considering bladeless LASIK with all the information they need to know about this revolutionary eye surgery.
About Custom Bladeless LASIK Surgery

Contrary to traditional LASIK (laser-assisted in-situ keratomileusis) eye surgery, custom bladeless LASIK (alternately known as all-laser LASIK) is a more advanced version of the original LASIK procedure, in which a single femtosecond laser is used to create the corneal flap, as opposed to using a blade or knife to do so.
Since this flap is created with a laser instead of a blade, it results in a flap that contains an equal surrounding thickness and cleaner edges, leading to a quicker healing time when compared to that of traditional LASIK.
The Key Advantages of Bladeless LASIK
Bladeless LASIK eye surgery is known to provide a number of amazing benefits, including being a very brief procedure of about 15 to 20 minutes, being exceptionally safe and low-risk due to its bladeless technology, offering greater patient comfort during treatment, providing a quicker recovery, and, of course, resulting in sharper vision long-term as well as preserved corneal tissue for potential retreatments in the future, should they be required.
What to Expect During and After a Custom Bladeless LASIK Procedure
During your bladeless LASIK surgical procedure, the eye surgeon will begin by instilling eye-numbing drops into your eyes to prevent any feelings of discomfort or pain with the treatment. Next, an instrument referred to as a lid speculum will be used to prevent your eyelids from closing, in addition to applying a suction ring to the eyes to prevent them from moving around.

The surgeon will then use the single femtosecond laser to create a flap on the cornea, which will be folded away to allow for the reshaping of the cornea using a laser customized to your prescription. The flap will then be restored, and the operation will be deemed complete.

For the first few hours following your bladeless LASIK procedure, it is completely normal for your vision to appear blurry or hazy. Fortunately, this will subside by the following morning, with gradual and noticeable vision improvements expected over the next few weeks.
It is also normal to experience some redness in the eyes or red spots that can persist for several days following surgery. This redness will also eventually disappear entirely, as with any bruising.

Moreover, know that you will be prescribed topical anesthetic eye drops to use after the procedure to help prevent eye inflammation, potential infection, irritation and dryness and promote proper healing of the cornea. You will be advised to continue administering these drops for several weeks with a gradual tapering down of use.
Who is an eligible candidate for bladeless LASIK?
In order to be eligible for a bladeless LASIK procedure, patients must be at least 18 years of age, have stable vision that has not fluctuated more that -0.50 over 12 months and not have any serious medical or eye issues or any history of active corneal disease.
Additionally, they must have appropriately sized pupils that do not exceed a certain size, a cornea of a minimum thickness, and must not currently be pregnant.
Bladeless LASIK Common Outcomes

When it comes to the typical results or outcome of a bladeless LASIK procedure, having realistic expectations is crucial to avoid disappointment. With that in mind, most patients are highly satisfied with the outcome of their bladeless LASIK surgery.

In fact, most patients can expect to achieve a vision of 20/20 or better through bladeless LASIK, although it all depends on tissue response for final outcomes.
In conclusion, if you are among the many people considering bladeless LASIK eye surgery today, it is absolutely worth discussing with your eye doctor or our team of experienced professionals at Clearview Vision Institute. Bladeless LASIK may be just the procedure that your eyes need to start seeing more clearly, so you can begin living more freely.
Contact Clearview Vision Institute Today
Are you considering undergoing a custom bladeless LASIK surgery in Toronto? We support this decision and are here to answer any questions you may have about it during your consultation.
To book an appointment, call Clearview Vision Institute at 647-493-6371 or contact us here.