9 Commonly Asked Questions About SMILE Laser Eye Surgery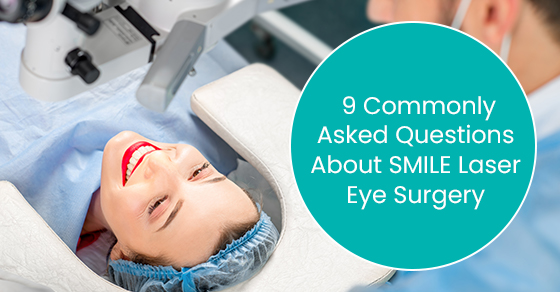 ReLEx SMILE is a type of laser eye surgery performed to correct refractive errors such as near-sightedness (myopia) and/or astigmatism through reshaping the cornea.

Thanks to various advantages, such as speedy recovery time and minimal risk compared to other types of laser eye surgery, SMILE has become a popular choice among vision correction patients today. However, as with any surgical medical procedure, it's completely normal for patients to have questions and concerns about ReLEx SMILE.

In this article, we'll address some of the most commonly asked questions about the SMILE laser eye procedure to help patients make the most informed and confident decision about their vision correction journey.

Below are 10 of the most commonly asked questions about ReLEx SMILE eye surgery:
1. Is ReLEx SMILE a safe procedure?

ReLEx SMILE is a very safe procedure. The technique used during SMILE is not only predictable and successful but is also void of flap-related complications that are possible with other types of laser eye treatments.
2. How does ReLEx SMILE differ from traditional LASIK eye surgery?

As previously stated, since SMILE is a flapless procedure, there is no risk of flap-related complications that may be a possibility with LASIK. Furthermore, the incision created on the cornea during SMILE is 80% smaller than made during traditional LASIK, thus reducing the risk of ectasia, late corneal thinning, and even dry eye symptoms.
3. Which refractive errors can be corrected with SMILE?

ReLEx SMILE is capable of correcting both nearsightedness (myopia) and astigmatism. Presbyopia and hypermetropia cannot be treated with this procedure.
4. How successful is ReLEx SMILE in correcting vision problems?

With a 10-year track record of success, ReLEx SMILE is as effective at correcting vision problems as other forms of laser eye surgery, such as LASIK.
5. How many ReLEx SMILE procedures have been performed?

More than 1.7 million SMILE procedures have been performed worldwide by over 1,300 trained surgeons. It is the fastest-growing option for laser vision correction to date and accounts for roughly 10% of all laser vision correction procedures across the globe.
6. How long does a typical SMILE procedure take?

The ReLEx SMILE procedure is extremely quick and convenient, usually taking no longer than 10 minutes for both eyes.
7. Is ReLEx SMILE painful?

Fortunately, the SMILE procedure is not painful. The doctor will administer topical anesthetic eye drops before treatment to protect the eyes from the pain. The only sensation that patients commonly experience is numbness or slight heaviness in the eyes.
Moreover, general anesthesia is also not used for this procedure, as ReLEx SMILE requires its patients to be awake for their entire surgery.
8. How long is the average recovery/downtime?

Patients must rest for 24 hours following their ReLEx SMILE procedure and should stay indoors on the day of their surgery. However, since there is no risk of flap-related complications with SMILE, patients can safely resume activities such as work, exercise, sports, or swimming the next day or within the first week of their procedure. SMILE patients may wear makeup the day after treatment, as well.
9. Am I a candidate for ReLEx SMILE eye surgery?

Most people who are suitable candidates for LASIK are also candidates for SMILE eye surgery, provided they have a type of refractive error that SMILE can treat. Patients must also be at least 18 years of age. With that being said, you will only know whether you are suitable for SMILE after undergoing a series of tests with your doctor.
Feel Confident About ReLEx SMILE at Clearview Vision Institute

ReLEx SMILE laser eye surgery is a highly safe and effective way to correct near-sightedness and/or astigmatism. It is important, however, to thoroughly research the procedure and gain a clear understanding of the benefits and risks before making your decision—all in addition to choosing a qualified, experienced eye surgeon like one of our doctors at Clearview Vision Institute.
Contact Clearview Vision Institute Today
Are you interested in scheduling a consultation for ReLEx SMILE laser eye surgery?

With the flapless SMILE procedure, vision problems no longer need to get in the way of living your best life. After we determine whether you're a candidate for this treatment, our expert doctors would be pleased to walk you through the process so that you can schedule your ReLEx SMILE procedure completely informed and with the utmost confidence.

To book an appointment with one of our laser eye institute doctors, call Clearview Vision Institute at 647-493-6371 or contact us here.