3 Signs Vision Correction Surgery Is Right for You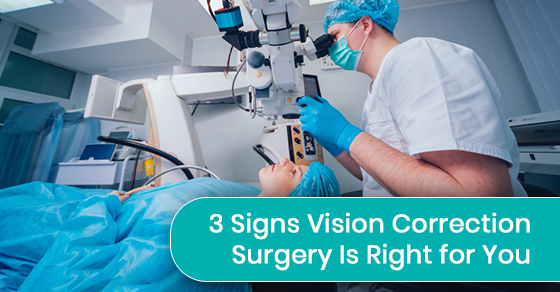 Are you constantly misplacing your glasses? When you go to bed at night, are you so tired that you don't want to take your contacts out even though you know you have to? Perhaps you just don't want to have to remember to bring your glasses with you everywhere, as well as potentially needing prescription sunglasses too.
With all of us wearing masks these days, you're probably having to deal with your glasses fogging up constantly. Or, you hate having to run out just to pick up more contact lens solution when you're trying to make fewer trips to the store in general. While you appreciate the improvement in your vision that glasses or contact lenses offer, you wish there was a way to have better vision with no hassle!
If any of this sounds like you, then you may be interested in LASIK eye surgery. LASIK eye surgery can help reduce or even entirely eliminate your need for eyeglasses or contact lenses. Here are 3 signs you may be ready for LASIK eye surgery:
Can LASIK eye surgery help me if I don't want to wear contact lenses or glasses anymore?
One of the most common reasons people are interested in laser eye surgery is that it can permanently eliminate the need to wear eyeglasses or contact lenses. With LASIK eye surgery, you'll stop having to buy:
Contact lenses and contact lens solution

Prescription eyeglasses and sunglasses

Accessories such as cases for glasses and contact lenses
With LASIK eye surgery, you'll stop having to worry about all of these things! Think of how great it would be if you didn't have to struggle with contact lenses at night and first thing in the morning. You could go swimming or play sports without worrying about breaking or losing your glasses.
Are there medical conditions that could prevent me from having LASIK eye surgery?
While having LASIK eye surgery can significantly improve your vision, there are some specific eye issues that cannot be treated by it. The following eye conditions may preclude you from being a candidate for LASIK eye surgery:
Dry eye syndrome. If you suffer from severely dry eyes, then LASIK eye surgery may not be a good choice for you.

If you have issues such as corneal scarring or cataracts, then LASIK eye surgery is also not suitable for you.
There are solutions to these kinds of vision issues, though, and we can help you with them at Clearview Vision Institute.
How can Clearview Vision Institute help me with LASIK eye surgery?
At the Clearview Vision Institute, we offer custom bladeless LASIK, which is one of the most advanced LASIK procedures available anywhere in North America. With custom bladeless LASIK, we can treat you if you have:
Nearsightedness (myopia)
Farsightedness (hyperopia)
Astigmatism (blurred vision that occurs because you have an issue with the shape of your cornea)
Our custom bladeless LASIK surgery offers so many advantages over traditional LASIK, including:
More precise results, as well as less risk of complications.
Better results because we can customize the corneal flap size which can preserve corneal thickness and reduce night glare.
It can be a good option for people who don't qualify for traditional LASIK due to issues such as severe refractive errors or thin corneas.
When you come to the Clearview Vision Institute for the custom bladeless LASIK operation, you can rest assured that you are getting service from highly trained surgeons who perform cutting-edge procedures using 4th generation lasers. We use corneal mapping to get a complete picture of your eyes; this ensures we can create precise corneal flaps.
Thanks to this increased precision, we can identify and treat even the smallest refractive errors. This means we can tailor our surgery to your exact needs and lead to a high success rate.
Take the Leap into Clearer Vision
LASIK eye surgery can make a huge difference in your life in a short period of time. You should strongly consider LASIK eye surgery if you're tired of wearing glasses and contact lenses and you're interested in having your vision issues permanently fixed. Imagine being able to get up in the morning without having to hunt for your glasses or fumble with contact lenses!
A whole new world of freedom awaits you with LASIK eye surgery. At Clearview Vision Institute, we offer you custom bladeless LASIK surgery in a warm and welcoming environment. We have an excellent track record, with our patients reporting high success rates and healthy eyesight that lasts, as well as an improved quality of life!
We're happy to answer any questions or concerns you may have about LASIK eye surgery. With innovative techniques like custom bladeless LASIK eye surgery, more and more people are now great candidates for LASIK procedures. To learn more, reach out to us today! Call us at 647-493-6371 or contact us online.