Vision Correction Surgery: What Are Your Options?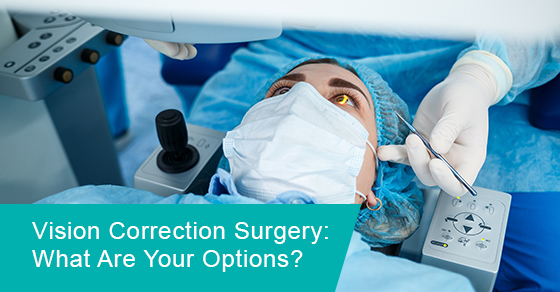 Vision correction surgery, also referred to as laser vision correction, is routinely performed by trained surgeons in order to fix common eye conditions. Issues like nearsightedness (myopia), farsightedness (hyperopia), astigmatism and presbyopia can all be successfully treated with such surgeries.
All vision correction surgeries improve a patient's eyesight through the reshaping of the front part of the eye, thus allowing any light that travels through it to focus on the retina located at the back of the eye, as it is intended for proper vision.
Following vision correction surgery, many patients today report achieving even clearer vision than they had at any other previous point in their lives – making these procedures truly life-changing. Perhaps the most advantageous and freeing aspect of vision correction surgery is its ability to reduce or eliminate a person's need to wear glasses or contact lenses.
What kinds of procedures are performed for vision correction?
There are several types of vision correction surgeries performed by eye surgeons today that are capable of treating refractive errors, and even non-refractive errors like presbyopia.
This article will cover 6 of the top vision correction surgeries proudly offered by our doctors at Clearview Vision Institute:
1. Custom Bladeless LASIK Surgery
Custom Bladeless LASIK eye surgery is a blade-free vision correction procedure performed on patients who suffer from nearsightedness (myopia), farsightedness (hyperopia), and astigmatism (blurred vision resulting from an unconventional corneal shape). During this procedure, a flap is created in the outer layer of the cornea, thus exposing the underlying tissue which is then reshaped using a laser.
With its very high success rates, Custom Bladeless LASIK has the quickest recovery time of all vision correction procedures. Furthermore, Custom Bladeless LASIK delivers more precise results due to the ability to create a thinner corneal flap during the procedure.
2. LASIK Xtra® Eye Surgery & Procedure
If you're a candidate for LASIK eye surgery, then you're likely also suitable for LASIK Xtra®.
This advanced laser eye surgery treatment combines the refractive error correction LASIK procedure with corneal cross-linking. It is performed to restore biomechanical integrity and strength to a patient's cornea following a procedure like LASIK or SMILE.
It also helps to improve the accuracy and extend the longevity of a LASIK procedure, reducing any need for a subsequent touch-up procedure at an additional cost.
LASIK Xtra is capable of treating patients with common vision problems including hyperopia (farsightedness), myopia over -5D (nearsightedness), new onset of astigmatism at unconventional degrees, as well as unusual topography features. It is also suitable for patients under the age of 23, in addition to patients who have been previously deemed as poor or ineligible LASIK candidates
3. Custom PRK Laser Eye Surgery
Short for "photorefractive keratectomy", PRK laser eye surgery is actually the original laser eye surgery, capable of correcting nearsightedness, farsightedness and astigmatism (with particularly outstanding results seen in nearsighted patients). Following a year of undergoing PRK, most patients will have achieved 20/20 vision or better.
During a PRK procedure, the eye surgeon will reshape the cornea through the use of a laser applied to its surface (not applied underneath the cornea like with LASIK). This laser delivers a cool beam of pulsing ultraviolet light.
Patients who are not candidates for LASIK or SMILE eye surgery may alternatively be candidates for Custom PRK surgery. It is generally the ideal procedure for those with large pupils or thin or structurally unconventional corneas, in addition to people who are involved in contact sports.
4. ReLEx SMILE Surgery
A minimally invasive procedure with a 10-year track record of success, ReLEx ® SMILE eye surgery is the latest advancement in laser vision correction technology. This surgery is performed to treat both nearsightedness and astigmatism with just a single laser used throughout the entire procedure. It is a bladeless, flapless and gentle approach to vision correction.
SMILE is currently performed by over 1,300 surgeons worldwide, and accounts for about 1 in10 of all laser vision correction procedures across the globe and growing. What's more, our Clearview Vision Institute is the first clinic in Canada to offer ReLEx SMILE eye surgery to its patients.
5. PiXL ™ Laser Vision Correction
PiXL ™ Laser Vision Correction is a non-surgical procedure performed for patients with mild prescriptions. The procedure works to biomechanically strengthen the cornea and improve vision through a simple and risk-free two-step process, and can successfully correct residual refractive errors and treat presbyopia. Clearview Vision Institute is the first clinic to introduce PiXL to Canada.
PiXL is ideal for patients who are not deemed candidates for other laser vision correction procedures, patients who are uncomfortable with the thought of undergoing surgery, and/or patients with a low enough prescription that still want to benefit from improved vision.
6. Laser Blended Vision Correction Treatment (PRESBYOND)
Laser blended vision correction treatment, referred to as PRESBYOND, is a new and revolutionary laser treatment introduced by ZEISS that is performed to treat the symptoms of presbyopia, a condition that normally occurs as the eyes age. Clearview Institute was the first clinic to bring PRESBYOND to North America.
Some patients achieve their desired results within a few weeks of their PRESBYOND procedure, while others may take up to three months. The results are permanent, however, re-treatment may be required.
Contact Clearview Vision Institute Today
Wondering about which vision correction procedure is right for you and your unique eyes?
Our team of experts would be pleased to meet with you to discuss options best suited to you and help you to make an informed decision.
To book an appointment, call Clearview Vision Institute at 647-493-6371 or contact us here.