ReLex SMILE vs. PRK Surgery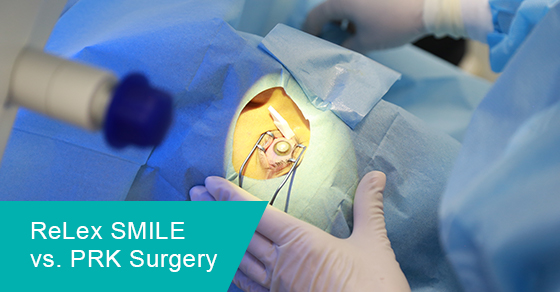 For those with vision impairment, laser eye surgery in Toronto is a great way to improve sight and focus. At Clearview Vision Institute, we offer several types of laser treatments in order to treat:
Nearsightedness

Farsightedness

Astigmatism

Presbyopia

Keratoconus
Here, we'll discuss the ReLex SMILE and PRK vision treatments, how they work, and who can benefit from these types of laser eye surgery. If you think you might be a candidate for one of these treatments, our contact details are included below.
What is ReLex SMILE surgery?
ReLex SMILE is a form of vision correction developed from the same technology as traditional laser eye surgery, but with some differences.
ReLex SMILE laser eye surgery in Toronto takes less than 20 minutes to complete. This is a big relief for many patients, as the term "surgery" often encourages visions of long hospital stays and longer healing times. This isn't the case for laser eye surgery.
During the procedure, a laser creates a small disk of tissue beneath the cornea, which is removed through a small incision. Prior to the incision, the eyes are numbed with special drops. The cornea can then be reshaped to improve vision based on the amount and shape of the tissue removed through the incision.
Pros:
ReLex SMILE procedures have a high success rate and require a short healing time. Vision is restored within a few days, although vision may be blurry for the first day.
Cons:
There may be side effects like halos, and some patients experience inflammation following treatment.
What is PRK laser eye surgery?
Photorefractive keratectomy, or PRK, is a form of laser eye surgery suitable for patients who have thinner corneas. It can be used for nearsightedness, farsightedness, and astigmatism treatment.
During standard LASIK, the cornea tissue needs to be thick enough to create a flap. If the cornea is too thin for this, PRK may be used to reshape the cornea without a flap. No flap means less room for damage during the laser treatment, but it also means that more of the cornea must be removed to reshape the lens.
PRK works by first numbing the eye with drops. The outer layer of the cornea is then removed completely to later grow back and heal. Once the outer layer is removed, a laser is used to reshape the cornea, and a protective lens is placed over the eye to protect it for up to 6 days post-surgery.
As PRK is a little more invasive than LASIK or SMILE laser eye surgery, it requires a longer healing process. You will need a week off from regular work duties, and should limit any screen time until fully healed.
Pros:
PRK is a quick surgery and takes around 10 minutes to complete. It is safer than LASIK in some ways because there is no flap created.
Cons:
A downside to PRK, apart from the long healing time, is the sensitivity you may experience to light. You may also need glasses for 4-6 months following the procedure as your cornea heals completely.
Other Laser Eye Surgery in Toronto
As a leading Ontario eye clinic, Clearview Vision Institute provides more than one option for laser eye surgery. We know that no two patients are identical, and everything from eye shape to vision correction needs plays a role in the surgeries available to you.
Along with ReLex SMILE and PRK, we offer services in:
Laser blended vision

Custom bladeless LASIK

LASIK Xtra

PiXL vision correction

Laser cataract surgery

Laser light transepithelial cross-linking
Each of these services is designed to meet a need in vision correction. Some use similar technology as ReLex SMILE and PRK but are unique in their method of treatment and physical application.
Choosing the Right Laser Eye Surgery in Toronto
Clearview Vision Institute offers several laser eye surgery options here in GTA. If you're not sure which is right for you, we can help you make an educated decision. Ultimately, you should book an appointment to come in and speak to a member of our experienced team. During this consultation, we can determine if you are a good candidate for our procedures based on:
Cornea thickness

Level of nearsightedness, farsightedness, and astigmatism

Age

Preferences
We can also walk you through each of the services appropriate for your level of vision correction, and help you make a choice that feels good for you. Finances may also be a factor in this choice, which is something we can discuss during the initial appointment to give you an idea of costs and payment options.
Contact Clearview Vision Institute Today
Clearview Vision Institute has been serving patients across Toronto and the surrounding areas for many years. We pride ourselves on building relationships with our patients, so you can trust the services you receive and the treatments we provide.
Our team is constantly upgrading their skills and taking on the latest training and updates to ensure that you get the best quality of care. It's important to us that our laser eye surgery in Toronto is the most up-to-date and safe procedure available.
Interested in learning more about ReLex SMILE and PRK? We're here to help. Give us a call at 1-647-493-6371 or visit us online to get in touch.