LASIK Surgery Options in Toronto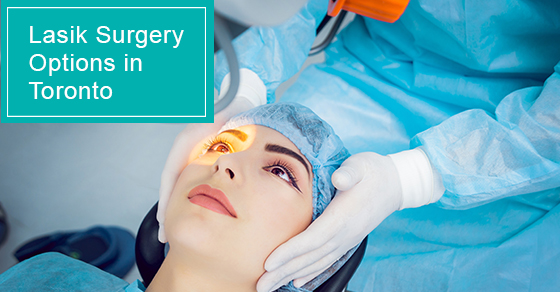 For those with vision impairment, LASIK surgery in Toronto is a great alternative to traditional glasses and contact lenses. The treatment offers long-lasting vision correction with no need for prescription eyewear.
There are different types of LASIK surgery available, depending on the level of vision correction needed and any special conditions you may have. At Clearview Vision Institute, we know there's no one-size-fits-all solution to eyesight. That's why we offer a variety of LASIK options. Here are some of the types of LASIK procedures that you can expect from the team at Clearview Vision Institute.
ReLEx SMILE LASIK
ReLEx SMILE laser treatments are minimally invasive options for patients with astigmatism or myopia (nearsightedness). Of all the LASIK procedures worldwide, SMILE procedures account for approximately 10%. The treatment involves a numbing drop, followed by a small incision in the cornea with a ZEISS VisuMax femtosecond laser. Lens tissue is removed through the incision, resulting in corneal shape and refractive changes. This improves vision.
SMILE LASIK in Toronto requires no flap, which encourages a stronger corneal layer following the procedure. This means a lower risk of infection and quicker healing time than traditional LASIK options. Most patients recover within a few days of surgery.
PRESBYOND Laser Treatment
PRESBYOND laser treatment is designed for those with presbyopia and wearers of bifocals. The treatment uses a ZEISS laser to sculpt the corneal tissue in the dominant eye to see distance, and in the non-dominant eye to see close up. The Clearview Vision Institute is the first in North America to use this treatment in our clinics.
PRESBYOND is low risk compared to lens replacement and corneal inlay surgeries, which are alternatives for presbyopia treatment. Patients have an easier time getting used to PRESBYOND results than they do lenses or glasses made for monovision.
LASIK Xtra
LASIK Xtra isn't a surgery unto itself. Rather, it's added to other LASIK procedures to strengthen the eye and extend the effect of the treatment. Patients who undergo LASIK Xtra receive lasting vision correction with corneal cross-linking. It's beneficial for patients with hyperopia and myopia with astigmatism.
This procedure can be added to LASIK or offered as a post-operative procedure for patients who have received LASIK, but wish to strengthen their corneas.
Custom PRK Laser Treatment
PRK, or photorefractive keratectomy, is a LASIK treatment that completely removes the top layer of the cornea. This differs from other LASIK treatments that only create an incision or flap in the cornea. With PRK, the cornea is reshaped to properly refract light and correct vision. It is used to treat nearsightedness, astigmatism, and farsightedness. It is the best treatment for those with thin corneas or large pupils.
Before undergoing treatment, your eye doctor will screen you to ensure that you're a good candidate for PRK. Prior to surgery, you will stop wearing contact lenses to keep the cornea from swelling. Anesthetic eye drops are used to minimize discomfort and the procedure begins. Postoperatively, you can expect to need to rest for up to 3 hours and heal for 4 to 5 days afterward.
Laser Cataract Surgery
Cataracts are the clouding of the eye lens due to aging or injury. Traditionally, cataracts are removed through phacoemulsification. At Clearview Vision Institute, we offer a laser treatment alternative with our laser cataract surgery.
Laser cataract surgery is precise and allows for self-sealing at the incision site. This reduces the risk of infection and increases healing time. With fewer refractive errors than traditional methods, our laser treatment affords for a gentle and simpler removal process with far less risk of eye trauma and postoperative inflammation.
Laser Light Transepithelial Crosslinking
This treatment is designed for those with degenerative eye disorders like ectasia or keratoconus. It is a safe alternative to traditional corneal collagen crosslinking treatment. At Clearview Vision Institute, we are the first clinic in Canada to introduce Avedro's Laser Light Transepithelial Crosslinking (LLTC) treatment.
LLTC has a reduced healing time compared to traditional crosslinking procedures and a lower risk of infection. Unlike traditional crosslinking procedures, LLTC does not break the epithelial barrier. This encourages a stronger cornea.
Other LASIK Treatments
While Clearview Vision Institute offers many treatments for LASIK in Toronto, there are some that we don't specialize in. Some of the other LASIK treatments you may have heard of include:
Selective Laser Trabeculoplasty
Selective Laser Trabeculoplasty (SLT) is a laser surgery for patients with glaucoma. When patients don't find relief from eye drop medications to lower the pressure in their eyes, SLT may be used to encourage drainage from the eye. SLT can successfully lower intraocular pressure (IOP) by up to 30% with an effect lasting anywhere from 1 to 5 years.
Yttrium Aluminum Garnet (YAG)
YAG laser treatment is a quick and safe procedure for posterior capsule opacity or secondary cataracts. Following cataract surgery, there is a chance that the artificial lens becomes cloudy as well. YAG helps clear this haze, so recovering cataract patients can see again.
LASEK
Unlike LASIK in Toronto, LASEK is not FDA-approved. It stands for Laser-Assisted Subepithelial Keratomileusis, and is a little like PRK in that the cornea is separated during surgery. Rather than removing the cornea, however, LASEK sees it pushed to one side while the eye is reshaped. Following treatment, it is folded back into place and covered with a bandage contact lens.
This treatment is more uncomfortable than LASIK eye surgeries, and requires more healing time. There is also a greater risk of infection, as the cornea is lifted and then replaced to heal.
These are just a few of the types of LASIK, or LASEK, that some patients choose. Clearview Vision Institute is constantly learning and upgrading our services to meet client needs and include the latest treatment methods and tools available.
Contact Clearview Vision Institute Today
Thinking about LASIK in Toronto? Clearview Vision Institute can help. Our team of experienced eye doctors work with families across the Greater Toronto Area for a wide assortment of vision correction issues. Whether you want to chat about which treatment is best for you, or you're ready to schedule an appointment, we can help. Call us at 1-647-493-6371 or visit us online.